Invisalign®
Invisalign® Discreetly and Comfortably Realigns Your Smile
Dr. Couvelis provides Invisalign® to subtly straighten patients' smiles at his Chicago dental office. Invisalign® orthodontic treatment utilizes clear aligners to properly realign your smile without obvious, and sometimes painful, traditional metal braces.
We offer Invisalign® Teen and Invisalign® Express, as well as traditional Invisalign®, to treat patients of all ages. If necessary, the doctor can incorporate Propel orthodontics to significantly speed up the treatment process.
Am I a Candidate for Invisalign®?
We offer a variety of Invisalign® treatment options to treat teenage patients as well as adults. Invisalign® can be used to correct alignment issues including an overbite, underbite, crowding, and gaps.
Misaligned teeth can cause a variety of other oral health problems, including an excessive build-up of plaque and tartar, which can cause gum disease as well as cavities. This is why orthodontic treatment is essential, not simply for cosmetic reasons, but to help ensure long-term oral health.
Treatment Planning
Prior to your treatment, Dr. Couvelis will thoroughly examine your teeth and gums. He may take x-rays to view your tooth roots and jaw and determine if you are a candidate for Invisalign®. Together, you will discuss your treatment goals and choose the option that is right for you, based on your desired timeline and alignment results. Before treatment begins, Dr. Couvelis will be able to tell you how long treatment will take, how many aligners you will need, and your expected treatment cost.
"Dr. Couvelis offers an array of options to best meet your needs and achieve the stunning results you are looking for in the timeframe that you desire."
Patients who would like their treatment completed within a certain timeframe may select the Express option. They also may also choose to include Propel to accelerate the treatment process even further. The Propel tool is used to create minor inflammation in desired treatment areas, making tissue more malleable and shortening treatment time by up to 50 percent.
The Invisalign® Process
Dr. Couvelis will first take impressions of your teeth and mouth in order to create your aligner. You will return to our office to pick up your first set of aligners within four weeks. You will receive specific instructions on how long to wear your aligners and how to care for them.
Traditional Invisalign® patients will wear each set of aligners for two weeks, for a minimum of 22 hours each day. Patients who opt to add the Propel treatment will wear each set of aligners for four or five days rather than for two weeks.
Traditional Invisalign® patients will return to the office every six weeks to pick up their next sets of aligners and for Dr. Couvelis to check their progress. Propel patients may need to come into the office more frequently during their expedited treatment period.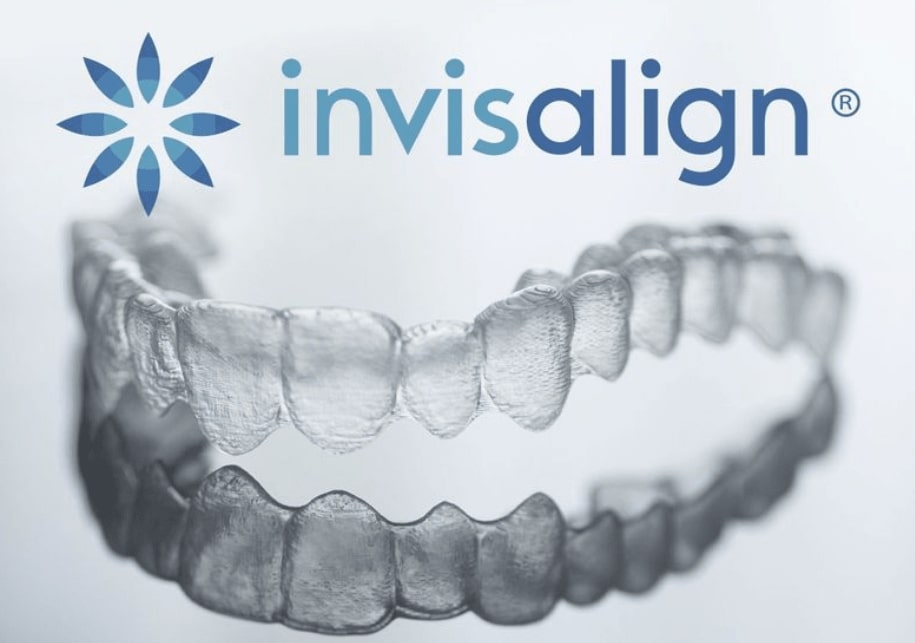 Invisalign® offers an array of options to discreetly straighten teeth in a timely and convenient manner.
Benefits of Invisalign®
Invisalign® offers numerous benefits to patients who choose this modern alternative to braces:
Invisalign® treatment is designed to fit your lifestyle. Aligners can be removed to eat, for photos, for special occasions, and more.
Because aligners are removable, you can eat a wider range of food than you can with traditional braces. Maintaining proper oral hygiene is also much simpler.
Transparent aligners straighten the teeth for ultimate discretion. Most people will not even realize you are wearing the aligners.
Invisalign® can be completed in just nine to 18 months. Express treatment, or treatment combined with Propel, can be completed in much less time. Regardless of the option you choose, treatment time will be far less than the two-year-plus timeframe required for traditional braces.
The Invisalign® system offers more comfort than traditional metal braces, which require frequent and often painful adjustments.
Schedule Your Invisalign® Consultation
If you are interested in correcting your misaligned teeth but want to avoid traditional metal braces, contact our office today to schedule your Invisalign® consultation. Dr. Couvelis offers an array of options to best meet your needs and achieve the stunning results you are looking for in the timeframe that you desire.

Also Consider Reading...