Instant Orthodontics: The Effectiveness of Porcelain Veneers

•
August 26, 2017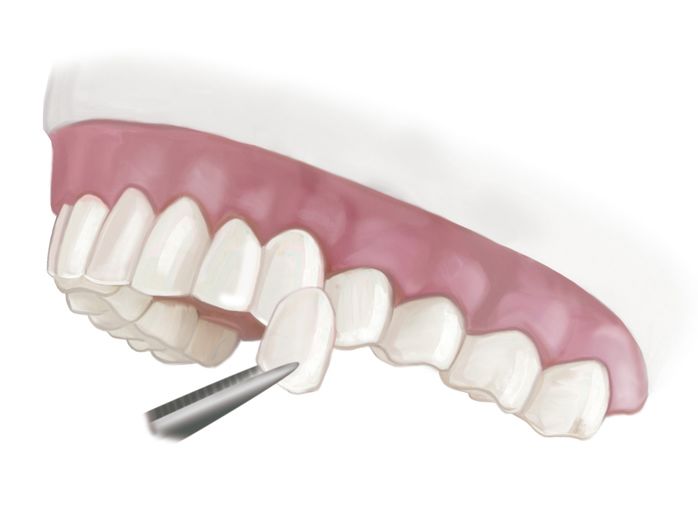 Our Chicago dental care center offers plenty of treatments for patients with crooked teeth. The degree of crookedness tends to determine the ideal approach to treatment. For people who suffer from minor and predominantly cosmetic issues with malocclusion, porcelain veneers are often an ideal solution to consider. In fact, they're sometimes referred to as instant orthodontics because of what they can achieve.
Let's take a moment to cover the basics of porcelain veneers and explain why they've earned the reputation of instant orthodontics.
About Porcelain Veneers
Porcelain veneers are thin shells of dental ceramic that are used to mask cosmetic flaws from view. These small cosmetic shells are adhered to the fronts of the teeth securely, and are used on the most visible/prominent teeth in order to improve smile aesthetics.
Porcelain veneers are an extremely popular cosmetic dentistry solution, and dentists have many ways of using them to enhance patients' smiles.
Problems That Porcelain Veneers Can Treat
Porcelain veneers are quite versatile. They are able to treat the following cosmetic problems:
Chipped teeth
Cracked teeth
Tooth gaps
Dental stains
Tooth discoloration
Asymmetrical teeth
Crooked teeth
Minor alignment issues
Why "Instant Orthodontics?"
Porcelain veneers are referred to as instant orthodontics because the outcomes of treatment can be so dramatic. In essence, porcelain veneers can make it look like you've undergone orthodontic treatment, but in just a fraction of the time.
Orthodontic care can take several months to complete if not more. By contrast, porcelain veneers can be placed in just two dental visits that are only a week-to-two-weeks apart, the virtual effects of orthodontics in a relative instant.
The Results of Porcelain Veneers
When a person gets porcelain veneers, the treated teeth look perfect, pristine, and natural. This is because the material used is semi-translucent. That means light partially passes through the veneers much like your natural tooth structure. In natural light and artificial light, your smile will look excellent, and no one will know that you have veneers in place.
Porcelain Veneers vs. Traditional Orthodontics
While porcelain veneers can yield excellent results, they are not appropriate for patients who face serious problems with malocclusion and dental alignment. When spacing and alignment issues affect dental health and wellness, orthodontic care is the ideal option to consider. Porcelain veneers are a purely cosmetic solution and will not improve dental alignment in the way that orthodontic care can.
Sometimes porcelain veneers may be placed at the end of an orthodontic procedure to improve smile aesthetics. We have to stress, however, that this will be at the end of orthodontic care to ensure ideal cosmetic outcomes.
Are Porcelain Veneers Right for Me?
The best way to find out if porcelain veneers, traditional orthodontics, or other dental procedures are right for you is to visit our practice for a consultation. During your visit, we will be more than happy to discuss these options in greater detail with you, developing a treatment plan that is custom tailored to your needs in the process.
Learn More About Porcelain Veneers
For more information about porcelain veneers and how they can help you look your very best, it's important that you request an appointment today. Our team is here to help you look your very best and to smile with confidence.

Also Consider Reading...
More Cosmetic Dentistry Blog Posts
Our Cosmetic Dentistry Services