Take-Home Teeth Whitening Will Brighten Your Smile

•
March 26, 2018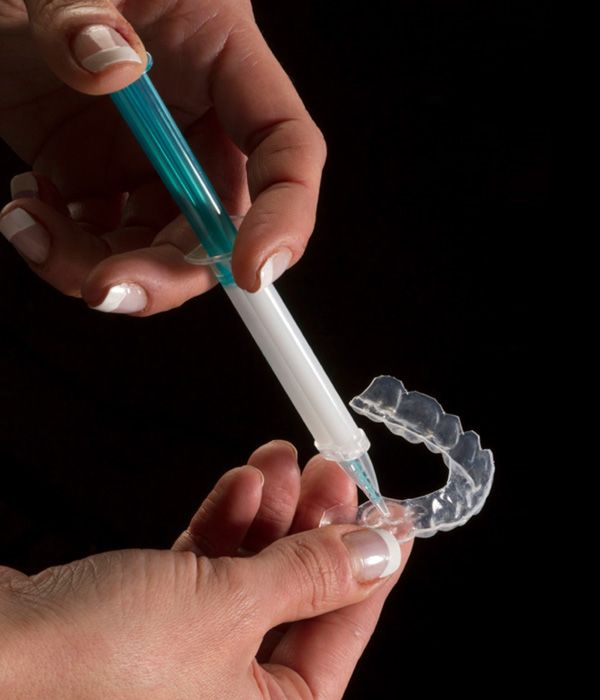 Looking good has never been more important, and a key aspect of looking one's best is having a bright smile. Fortunately, this has never been easier. Dr. William J. Couvelis of North Pier Dental Associates in Chicago, devotes a significant part of his successful practice to providing cosmetic dentistry services. These include smile makeovers, porcelain veneers, and Invisalign® smile realignments.

Another important cosmetic service Dr. Couvelis offers is professional teeth whitening. Most patients opt to have this treatment performed in the office, but others find that the take-home teeth whitening kit Dr. Couvelis also offers is a better fit for their needs. It can save time and money while yielding the same excellent outcome.
Brighten Teeth at Home
The Philips Zoom! take-home teeth whitening kit that Dr. Couvelis distributes to his patients is one of the most popular products on the market. This is because it is highly effective in whitening, yet it causes little to no sensitivity to the teeth. Millions of patients have used Zoom products with outstanding results.
The process for using take-home teeth whitener is easy and straight-forward. Dr. Couvelis will first examine patients and evaluate whether they are good candidates for teeth whitening. Some forms of deep, intrinsic stains—for example, those caused by certain types of medications—simply are not amenable to whitening procedures. If this is the case, he may recommend a different form of treatment to create a beautiful smile, such as porcelain veneers.
In addition, Dr. Couvelis will usually recommend treating patients with dental caries (cavities) or periodontal (gum) disease before they have their teeth whitened.
Most Patients Can Use Whiteners
Fortunately, most patients can benefit from whiteners. For those who choose to whiten their teeth at home, Dr. Couvelis will make an impression, or mold, of their teeth and then fabricate a custom tray. After placing the tray in the mouth to ensure a good fit, he will instruct patients on how to use the whitener before sending them home with the tray and whitening kit.
Patients simply apply the whitening gel to the inside of the tray, using the provided syringe, and place the tray in their mouth. This completely immerses the teeth in the whitening solution yet protects the gums. Patients then wear the trays overnight for a couple of weeks, or if they prefer, they can wear the trays for a specified period every day. Either way, most patients notice that in as little as a week, their smile is noticeably brighter. If they wish, they can perform periodic "booster" treatments in the weeks and months to follow, ensuring that their results will last.
A Brighter Smile Is Only a Phone Call Away
Patients interested in improving their appearance—either with whiteners, porcelain veneers, smile makeovers, or any of the other cosmetic dental services that Dr. Couvelis provides—are encouraged to get in touch with his team at North Pier Dental Associates. As "Chicago's Secret to a Beautiful Smile," their many satisfied patients attest to their courteous and high-quality treatment. The office number is (312) 321-7645 or you can request an appointment below.

Also Consider Reading...
More Cosmetic Dentistry Blog Posts
Our Cosmetic Dentistry Services