Don't Stick Out: Treatment for a Jutted Tooth

•
July 26, 2017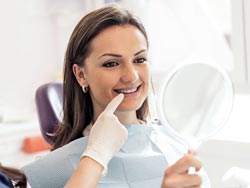 If your smile is affected by a single tooth that protrudes compared to the rest of your teeth, then you have what dentists refer to as a jutted tooth. Fortunately, there are a number of cosmetic dentistry solutions that can give you the straight, uniform teeth you desire. We are pleased to offer the most advanced and effective of these cosmetic dentistry solutions at North Pier Dental Associates, the state-of-the-art practice of Dr. William J. Couvelis.
In discussing treatment options for a jutted tooth during your consultation at our Chicago, IL practice, Dr. Couvelis will explain each option in detail and recommend the treatment plan he feels will most likely deliver the best results given your needs and goals. At North Pier Dental Associates, there is nothing more important to Dr. Couvelis and his team than your overall satisfaction. Their goal is for you to emerge from treatment with a smile that you are proud to flash at every opportunity.
If you are dissatisfied with the appearance of your smile due to the presence of a jutted tooth, then we encourage you to schedule your initial consultation with Dr. William J. Couvelis at North Pier Dental Associates today.
How Does Dr. Couvelis Treat a Jutted Tooth?
The most appropriate treatment for your jutted tooth will depend on several factors, including:
The angle to which your jutted tooth protrudes
The cause for the protrusion of your tooth
Your cosmetic goals for treatment
How quickly you want to achieve your desired results
Treatments for Jutted Tooth
The treatments available for jutted teeth at North Pier Dental Associates include:
Invisalign®: The most common cause of jutting is misalignment, usually due to overcrowding of teeth. The Invisalign® system helps to resolve this problem by gradually shifting the teeth into their proper positions in the mouth. This is accomplished through a series of clear plastic aligners customized to fit comfortably in the individual patient's mouth. Each aligner is swapped out for the next in the series every two weeks or so. Unlike traditional metal braces, Invisalign® aligners are virtually undetectable when worn and can be removed for brushing, flossing, and eating. As long as they are worn for between 20 and 22 hours each day, treatment will require about the same amount of time as it would with traditional braces.
Porcelain veneers: Porcelain veneers can be affixed to the front surfaces of the teeth as a sort of "instant orthodontics." This can help to conceal the jutted tooth, especially if the jutting is minor, and impose uniformity on the surrounding teeth.
Porcelain crowns: If the jutted tooth involves one of the side teeth, a porcelain crown can help to resolve imperfections in shape and alignment. A custom-crafted crown will conceal the entire surface area of the tooth from the gum line up.
Learn More about Treatment Options for a Jutted Tooth
To learn more about treatment options for a jutted tooth and which one may be best suited to your particular case, please request an appointment at North Pier Dental Associates today.


Also Consider Reading...