Porcelain Veneers
Porcelain Veneers Conceal Imperfections to Achieve a Flawless Look
With our partner dental laboratory just down the street from our office, Dr. Couvelis can conveniently provide patients with custom porcelain veneers to permanently improve their smiles at his Chicago dental office.
Lab technicians are even available to meet with you at our office to analyze your smile and ensure that your veneers will be a perfect match. Veneers present a versatile cosmetic treatment option that can conceal a variety of dental flaws, including chipped or cracked teeth, unevenly spaced teeth, stained teeth, and more.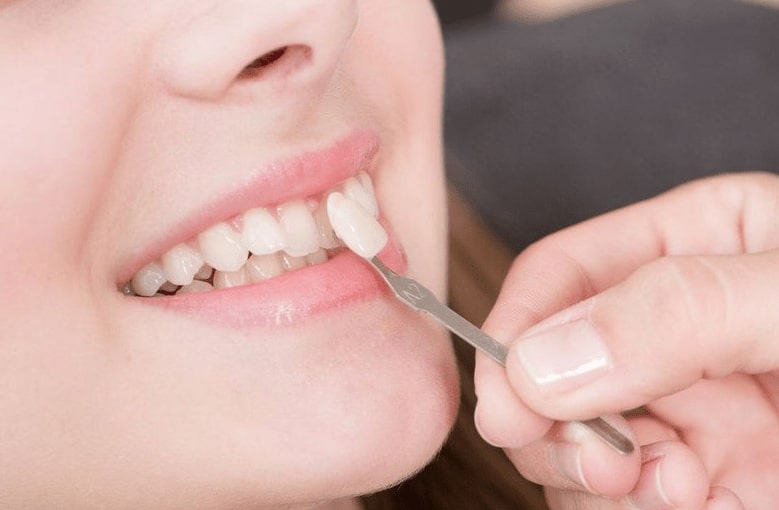 Porcelain veneers provide an elegant solution to conceal the appearance of minor imperfections with no downtime.
What are Porcelain Veneers?
Porcelain veneers are thin shells crafted from medical-grade ceramic and affixed to the front of the teeth to conceal minor damage, misalignment, and stains. Dr. Couvelis offer traditional and minimal preparation veneers, as well as LUMINEERS®.
Traditional: Traditional veneers are placed over two appointments. First, a small amount of enamel is removed to create room to accommodate the veneers. Then, impressions of your teeth are taken and sent to a lab that will fabricate your restorations. Turnaround time varies from four days to two weeks, depending on how many veneers you receive.
Minimal Prep: Minimal prep veneers require minimal dental enamel removal, resulting in faster treatment time. You can discuss whether this option is right for you with Dr. Couvelis.
LUMINEERS®: Similar to minimal prep veneers, LUMINEERS® require less removal of the enamel than traditional veneers and can be specially crafted by our dental lab in about two weeks.
Candidacy for Porcelain Veneers
If your teeth are chipped, cracked, or deeply stained, you may be a candidate for porcelain veneers. If you have minor orthodontic issues such as overly crowded teeth, gaps, or other misalignment issues, porcelain veneers may also be a good option for you.
Although all three types of veneers require enamel removal, traditional veneers require the most, so you will need to have sufficient enamel to qualify for treatment. You can discuss this further with the doctor during your consultation.
What to Expect
During your consultation, Dr. Couvelis will thoroughly examine your teeth and gums to ensure that there are no underlying conditions that require treatment prior to cosmetic work. You will also discuss your aesthetic goals, and Dr. Couvelis will determine which teeth will most benefit from the placement of veneers. Some patients may require just one or two veneers, whereas others may require six to ten.
Before & After Porcelain Veneers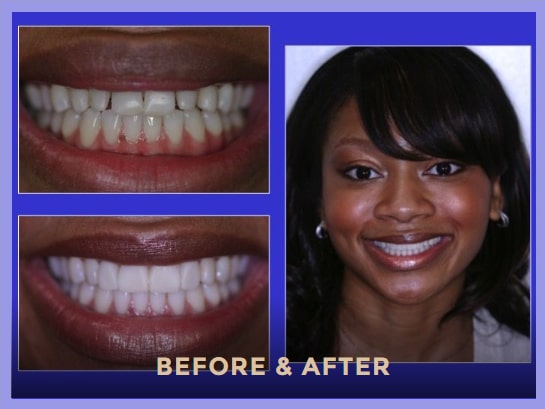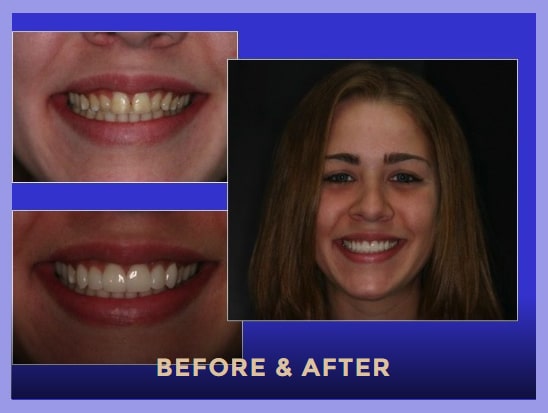 Actual Porcelain Veneers Cases Treated by Dr. Couvelis
"Porcelain veneers require no downtime, and offer an immediately whiter and straighter smile to improve your confidence."
If one of your cosmetic goals is to brighten your smile, Dr. Couvelis may recommend professional teeth whitening prior to placing your veneers so that they can be matched to your newly whitened smile.
Once your teeth have been prepped, we will take impressions to send to our lab. The timeframe for the creation of your custom veneers will vary based on the number you need: fewer veneers will take less time. A lab technician can meet with you personally to ensure that veneers perfectly match the shade of your smile. This is especially important if you are receiving only or two veneers, as they will require delicate customization to blend seamlessly with neighboring teeth.
When your veneers are ready, you will return to the office so that Dr. Couvelis can place them. Your teeth will be lightly etched, and dental cement will be spread over the back of the veneers, which will be placed on your teeth. Dr. Couvelis will ensure your veneers are properly shaped and aligned for a perfect fit.
Schedule Your Consultation
Porcelain veneers require no downtime and offer an immediately whiter and straighter smile to improve your confidence. If you feel self-conscious about the appearance of your smile, contact our office today to schedule your cosmetic consultation for porcelain veneers.


Also Consider Reading...